All Press Releases
Kristin Brandli Printon Wins WaveMaker Award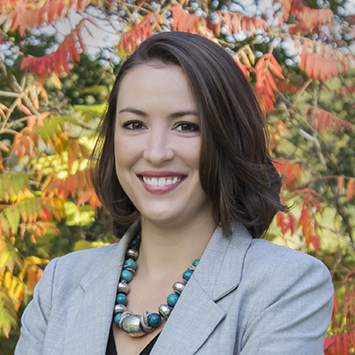 Winners of TeamWomenMN's WaveMaker Awards Celebration were announced at a ceremony on February 9, 2017.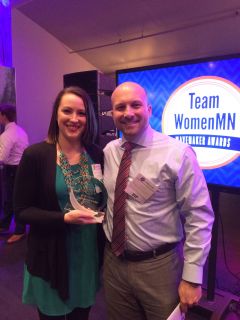 MINNEAPOLIS — Kristin Brandli Printon, Partner & Financial Consultant at Moxie Wealth Management, a strategic partner with North Star Resource Group, has been announced as the Winner of TeamWomenMN's WaveMaker award. The award was presented as part of TeamWomenMN's second annual WaveMaker Awards Celebration on February 9th, 2017. Pictured on the left are Printon and Joe Burgess, Founding Partner & Wealth Advisor at Moxie Wealth Management at the ceremony.
Five Finalists, selected out of a pool of over twenty-five applicants, were selected for the WaveMaker award and notified of their status in December. All Finalists were honored at the ceremony in addition to the Winner being announced. "WaveMakers" are defined as those who demonstrate outstanding achievement, an entrepreneurial spirit and initiative through leadership within both their profession and community.
This year marks the second consecutive year of the awards and ceremony, hosted by TeamWomenMN's Young Professionals Board. TeamWomenMN is a Minnesota-based organization with a mission to inspire, encourage, and support women in reaching their full potential. Founded in 2012, the organization has created 152 mentor/mentee pairings and members have the opportunity to attend numerous networking and professional development events throughout the year.
Printon, a member of TeamWomenMN, has been a Minneapolis-based Financial Consultant for the past six years. Several of Printon's achievements to date include co-founding Moxie Wealth Management in 2015, co-founding North Star's Law Division, being named an honoree to Finance & Commerce's Top Women in Finance in 2015, and serving as a mentor to new advisors and interns. As a Volunteer Financial Advisor for the American Bar Endowment and an e-Mentor and Classroom Plus volunteer for BestPrep, Printon has stayed busy with community involvement efforts that align with both her strengths and interests.
To learn more about TeamWomenMN and the WaveMaker Awards, visit https://teamwomenmn.org/.
To learn more about Kristin Brandli Printon, visit http://www.moxiewealthmanagement.com/our-story/kristin-brandli/.
About North Star Resource Group
North Star Resource Group is a Minneapolis-based financial services firm that provides both individuals and businesses with the resources to help create, preserve and protect their wealth. North Star has more than 150 full time advisors and over 150 employees. In a network of 44 offices in 22 states, they have contributed to the financial security and well-being of over 120,000 individuals and small businesses**. To learn more about North Star Resource Group, visit www.NorthStarFinancial.com.
**Data as of 12/31/2015
For Immediate Release
Contact:
Megan Temte
North Star Resource Group
612.617.6018
megan.temte@northstarfinancial.com
###
Kristin is an investment advisor representative of Cetera Advisor Networks, LLC. CA Insurance License #0M81845.