All Press Releases
Financial Haus breaks ground in Hillcrest, aims to reduce the Millennial Wealth Gap
Two San Diego financial advisors are helping millennial professionals create a financial game plan and delivering real solutions and empowerment relevant to their generation. Located in the heart of the Hillcrest community, Financial Haus, powered by North Star Resource Group, brings a fresh perspective to financial planning while aiming to bring resources to millennial, military and minority communities.
SAN DIEGO — As many business owners struggled during coronavirus pandemic pressures, two bold entrepreneurs turned their dreams into a reality by launching a financial firm focused on serving millennial professionals with advice that fits their values and lifestyle.
Since their launch in January, their dream has come to life within their Hillcrest neighborhood, the center of San Diego's LGBTQ+ community, and the firm has projected to triple in size in its first year.
During their careers as financial advisors, Kev and Andrew Baker realized the traditional financial planning industry primarily focused on a small portion of the population. Millennials are the largest generation in the U.S. labor force and recent Fed data shows that millennials only hold 4.8 percent of US wealth. A stark contrast to 21.6 percent that the baby boomer generation encompassed when they entered the 1990s. (Pew 2018) (Fed Reserve | Last Update March 19, 2021)
"If we could get in front of our fellow millennials and coach them with financial literacy, we could work towards changing this trajectory and give millennials their seat at the table," the couple remarked. The couple pitched their idea to the CEO of North Star Resource Group. They were met with equal enthusiasm and support. North Star gave the green light, and thus Financial Haus was born.
"Millennials are known to be one of the most loyal generations towards brands," says Andrew Baker. "Getting the brand right the first time was so important."
Sam Watkins at The Marketing Nerd Agency helped the brand come to life. Together the team created their Financial Haus logo and website. In early 2021 they also launched their first newsletter.
The atmosphere at Financial Haus' Hillcrest location radiates the friendly, forward-thinking ethos that their team projects within the office and with their clients. Guests are typically greeted at the door by the Bakers' two French bulldogs, Tatum and Tucker. Most notably, when you peer into the bullpen suite, you can find this group of Financial Advisors decked out in coordinating tracksuits.
"Unlike most other financial advisors, you won't ever find us in a suit and tie. We wanted to be different and make a statement. Everything about us is different. That is part of our brand," says Kev Baker.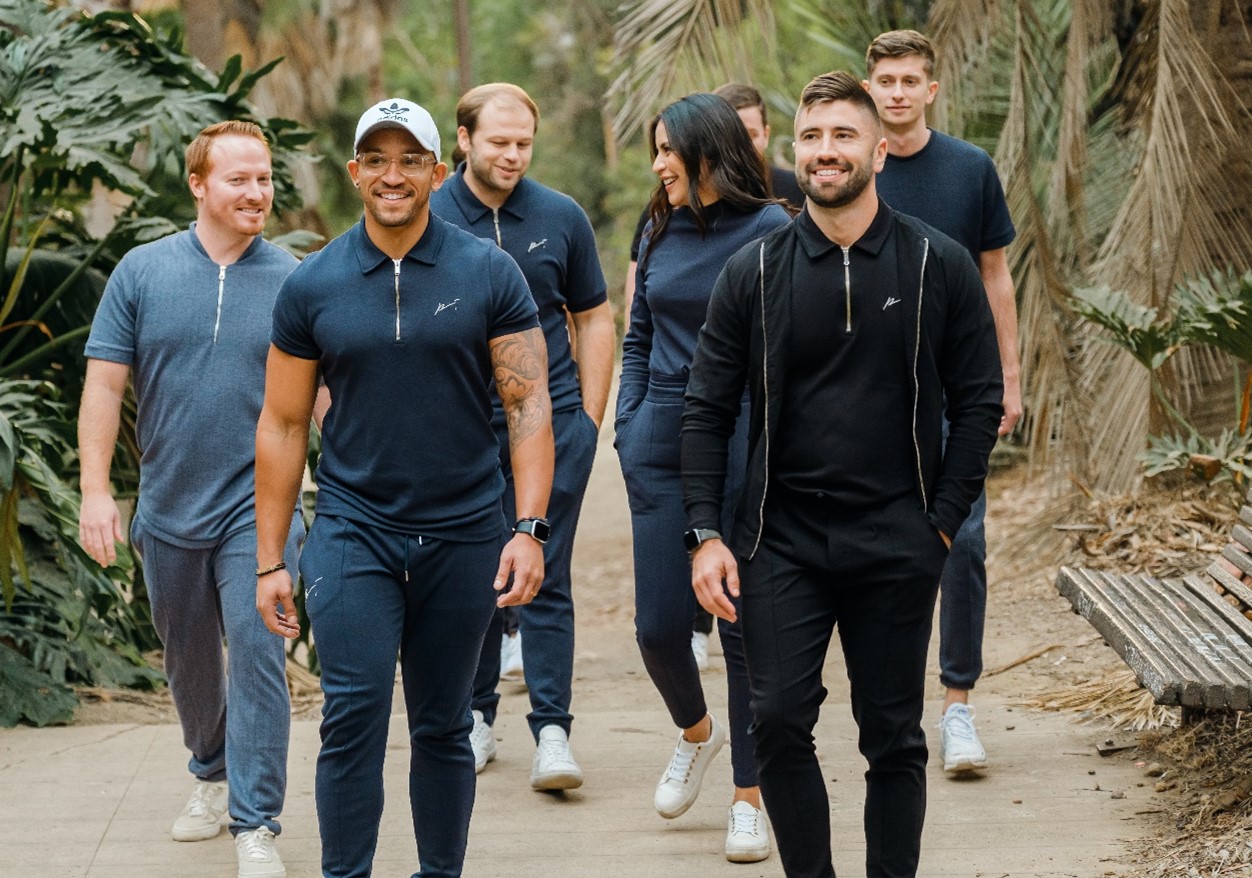 Attire wasn't the only thing they shook up in the industry. With a focus on empowerment and honest, advice-based coaching, Financial Haus became a "personal trainer for your money." Advisors give their clients tangible ways to work towards reducing debt and increasing their net worth.
Since their launch in January, the three original financial advisors of Financial Haus have added four additional advisors to their team, with three more studying for their licenses and starting in September.
"To build strong client relationships, we need to create a cohesive team where we truly embrace our differences and can bring our most authentic selves to work," says Kev Baker.
To do this, the founders enlisted the help of Dr. Matthew Norton, founder of People + Purpose, to coach their advisors and team members. Each month, Norton meets with the Financial Haus team to uncover their true strengths, inspiration sources and most importantly, their differences. During these sessions, the team talks candidly about how they can embrace those differences and perform at their highest caliber for their clients.
The two founder's dedication to diversity is steadfast and is boldly displayed in graffiti art on the wall within the co-working space. In the summer of 2021, they commissioned local artist, Dave Vice at DVC Creative, to bring the mission of Financial Haus alive through art.
When asked what he wanted to say through this work, Kev Baker simply replied, "All are welcome here."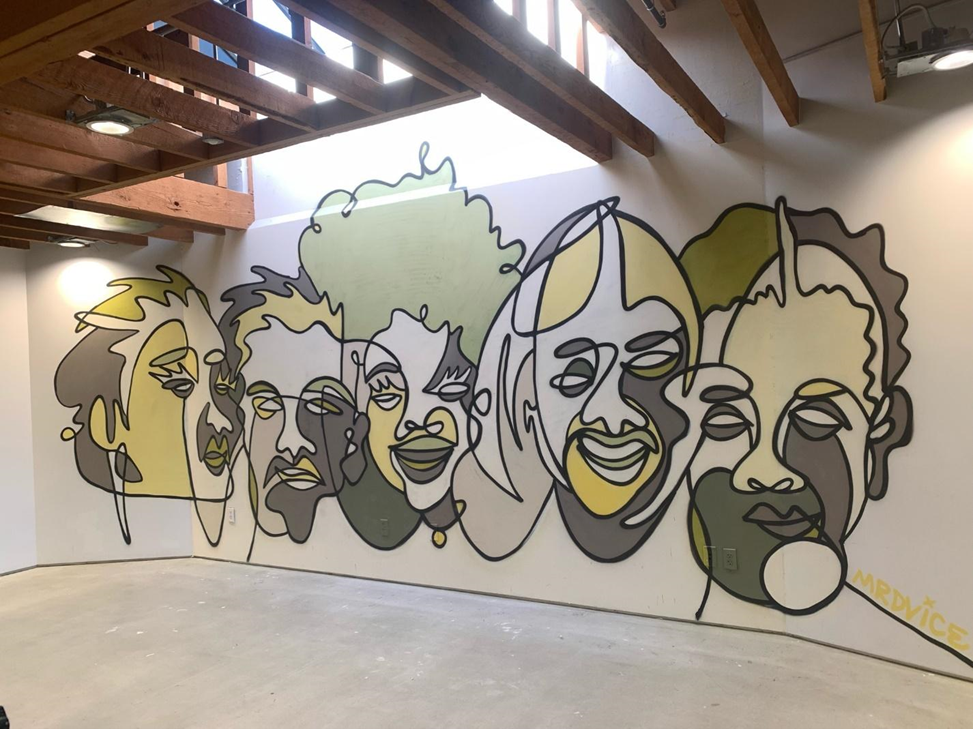 The firm will host its first annual Pride "Open Haus" party on Saturday, July 17 at 1:00 PM at their new office in the heart of Hillcrest. The event will be a celebration of the local community with food and drinks and DJ appearances by Sassy, Potter, Vitamin K and B8. Visit https://vimeo.com/561030117.
###
About Financial Haus
Financial Haus is a San Diego-based financial services firm providing sound financial planning for the world we live in today. Located in the heart of the Hillcrest community in San Diego, Financial Haus aims to create a community that shifts the financial industry by changing the relationship millennials and minority communities have with financial planning. For more information visit www.financialhaus.com.
About North Star Resource Group
North Star Resource Group is a Minneapolis-based financial services firm that provides individuals, families and businesses with the resources needed to create, preserve and protect their wealth. With a network of 170 advisors in 22 states, North Star has contributed to the financial security and well-being of over 140,000 individuals.*  Additionally, North Star contributes 10 percent of profits each year to worthy nonprofits through the Scott Richards North Star Foundation, totaling $5 million donated since 2004.
*Data as of December 31, 2019
If you would like more information about this topic, please call Shelby George at 619.839.7701 or email at shelby@financialhaus.com.