All Articles
Why you should look at your employer's disability benefits more seriously
In the world of wealth management, the greatest risk to achieving financial independence is a sudden change to your income—the fuel that drives the wealth-building engine. This loss is often due to an injury or illness that prevents you from showing up to work and bringing home the paycheck you're used to.
Sure, you might have group long-term disability (LTD) coverage provided to you by your employer, but in most cases, this was designed to be "a good start."
It's a great benefit when your employer provides it, but sometimes we skip right over this benefit and don't actually consider what life would be like we actually had to use it.
Any group coverage your employer offers is better than nothing because it lessens your income gap if you were to become disabled while minimizing your responsibility to pay for your own insurance. Still, it doesn't completely eliminate your responsibility.
Just because you have group coverage, this doesn't mean you automatically check off your income protection box in your wealth management to-do list.
Take the following scenario for example: A young professional is making $100,000 a year with some bonus money and they have a standard 60% group LTD plan. As you see in the illustration below, their monthly paycheck drops significantly when relying solely on their group plan.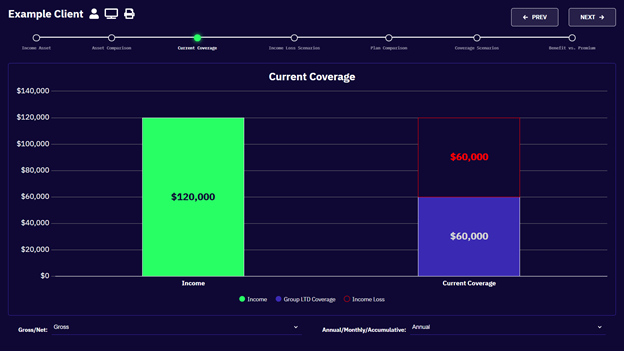 Graphic courtesy of One Protection
The employer benefit was never designed to take care of the employee entirely, yet most people don't address the income gap because they truly don't know they have one.
When preparing properly for a disabling event, it takes coordination between group and privately-owned insurance to keep your finances in order and your goals on track. Without individual coverage, you can see how an income gap, even for a short time, would impact your cash flow and income trajectory over your career.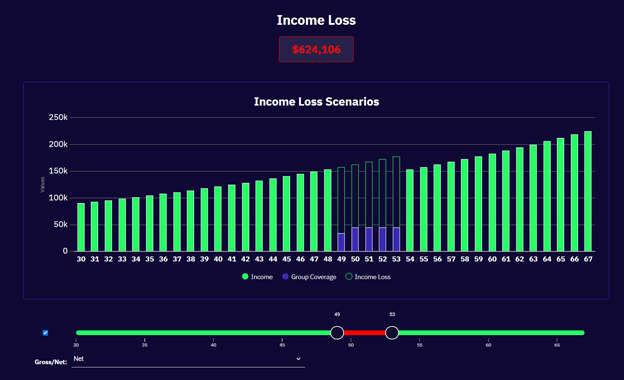 Graphic courtesy of One Protection
In a disability situation, a lack of preparation can cost you your savings.
You're making less, and in many cases, your expenses increase. For many people, disability may mean losing your job, ergo their existing employer-provided benefits. You are now responsible for the entirety of your health insurance premiums, the entirety of your retirement savings, and any other benefit you might have relied on through an employer.
What it comes down to is making sure that your income gap is as small as possible, so your lifestyle and future are impacted as little as possible.
Getting individual disability insurance is going to be your best bet to shore up your income gap while disabled. If your retirement strategy is heavily dependent on your employer contributions, you may also need to get coverage for your retirement savings as well (talk to your financial advisor about ways to protect against the loss of employer matching due to a disabling event).
Get more financial wellness tips in your inbox!