All Press Releases
Phil Richards to be Inducted into The American College's Alumni Hall of Fame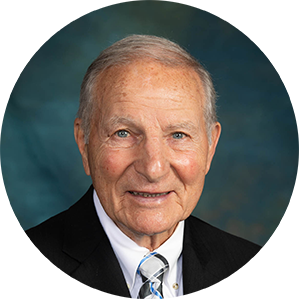 BRYN MAWR, PA—Phillip C. Richards, CFP®, CLU, RHU, Executive Chairman and Founder of North Star Resource Group, will be inducted into The American College's Alumni Hall of Fame at a ceremony to be held in New York City on November 18, 2016.
Richards will be inducted into the Hall of Fame based on his experience and lifelong commitment to the advancement of the financial services industry. After acquiring North Star Resource Group in 1969, Richards went on to grow the Minneapolis-based financial services firm from a five-agent basement office to a firm with over 300 financial advisors and team members in 22 states. Richards recently transitioned into his new role as Executive Chairman and Founder after his 46-year tenure as CEO.
Throughout Richards' career, he has been the recipient of numerous honors and awards, both within and outside of the industry. These include NAIFA's John Newton Russell Memorial Award (2007), GAMA's International Management Award (1972 – 2015), the National Wrestling Hall of Fame (2010), the National High School Coaches Hall of Fame (2009) and the GAMA Hall of Fame Award (2005), among others. Additionally, Richards serves on the Boards of The American College, Temple University, the Arizona Heart Foundation, Mayo Clinic Leadership, the Life Foundation, CRI Securities and the Scott Richards North Star Charitable Foundation. He is the Co-Founder of GAMA Thailand and has been the main platform speaker for over 150 companies and over 25 NAIFA organizations, speaking in seventeen countries and in Asia for the past 16 consecutive years.
Most recently, Richards was awarded an Honorary Doctorate Degree in June 2016 by Temple University and also served as the commencement speaker. Richards is a 1962 Temple graduate. Prior to Temple, he grew up at 6th St. and Walnut St. in New York City and was a 1958 Easton High School graduate, where he served as Wrestling Captain and Student Body President.
Richards will be the 15th individual to be inducted into the Hall of Fame, which serves to recognize graduates of The American College's designation or degree programs who have given remarkable support to the College for years in terms of time, talent and treasure. Inductees must have a long history of volunteering or participating in the College's community and environment.
About North Star Resource Group
North Star Resource Group is a Minneapolis-based financial services firm that provides both individuals and businesses with the resources to help create, preserve and protect their wealth. North Star has more than 150 full time advisors and over 150 employees. In a network of 44 offices in 22 states, they have contributed to the financial security and well being of over 120,000 individuals and small businesses**. To learn more about North Star Resource Group, visit www.NorthStarFinancial.com.
For Immediate Release
Contact:
Kristen Bernsteen
PR & Social Media Specialist
North Star Resource Group
612.617.6018
Kristen.Bernsteen@northstarfinancial.com
###
Awards are based primarily on commissions, premiums, or fees generated from investment and insurance products and other criteria relative to leadership, achievement, and recruiting selected by the applicant. Individuals must be current with membership dues and submit an application fee for consideration.   Working with this firm is not a guarantee of future financial results. Investors should conduct their own evaluation. In order to be granted some of these awards, individuals must be in good standing with the organization in terms of their applications and payments.
Phil is an investment advisor representative of Cetera Advisor Networks, LLC.