All Press Releases
North Star Resource Group Chosen as 2019 Charitable Champion by Invest in Others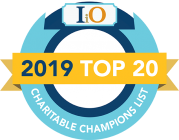 MINNEAPOLIS — InvestmentNews Invest in Others recently chose North Star Resource Group as an inaugural Charitable Champion in December, 2019. This list recognizes 20 financial services firms for their exemplary efforts to give back to their communities by promoting a culture of philanthropy amongst employees and financial professionals. Submissions were evaluated blindly by a panel of judges based on criteria including employee benefits, company contributions, and philanthropic events and programs offered by the firms.
CEO Ed Deutschlander commented, "We are honored to be part of the Invest In Others inaugural list. Part of being in the North Star Family is giving back to the community. We stress this in multiple ways – from giving team members the opportunity specifically to have extra paid time off to volunteer for a non-profit of their choice, to having regular opportunities to donate blood or participate in holiday food and toy drives and more."
North Star's philanthropic efforts are headed by the Scott Richards North Star Foundation (SRNSF). North Star Resource Group established this foundation in 2004 in order to maximize charitable contributions as a firm and support causes close to the North Star team. The foundation was renamed the Scott Richards North Star Foundation in 2008, after the death of former president Scott Richards. Since 2004, North Star has donated 10% of profits annually to the foundation, which has contributed over $5 million to the communities in which we live and work in. In addition, the foundation supports the volunteerism and giving efforts of financials professionals and team members by providing an internal matching gift program.
The SRNSF has recently funded two fully endowed chairs for Alzheimer's research at Temple University, in addition to giving annual donations to Mayo Clinic for research. North Star Founder and Chairman, Phil Richards, commented on the impact made by the SRNSF, noting "Since the founding of the SRNSF, we are especially proud of our efforts to better the community in terms of advancing medical research, but also at the grassroots level. We have been able to give over 5,000 bikes to underprivileged youngsters through "Bikes for Kids". We look forward to continuing our efforts now and long into the future."
The Scott Richards North Star Foundation has six selected causes as its focus: Alzheimer's disease, Ataxia, Bikes for Kids, Breast Cancer, Cystic Fibrosis and Myelofibrosis. For more information on the SRNSF, please visit www.northstarfinancial.com/foundation/.
About North Star Resource Group
North Star Resource Group is a Minneapolis-based financial services firm that provides both individuals and businesses with the resources to help create, preserve and protect their wealth. North Star has more than 150 full time advisors and over 170 employees. In a network of 41 offices in 22 states, they have contributed to the financial security and well-being of over 140,000 individuals and small businesses.* To learn more about North Star Resource Group, visit www.NorthStarFinancial.com.
About the Invest in Others Charitable Foundation
The Invest in Others Charitable Foundation amplifies the charitable work of financial advisors and their firms by providing a platform to increase awareness and funding for their favorite nonprofits. Its programs recognize, support, and connect, which helps to build critical visibility, encourage others to get involved, channel additional resources to those in need, and highlight the important work being championed by the financial services community. For more information, visit investinothers.org or follow Invest in Others on Twitter, LinkedIn, and Facebook."
*Data as of 12/31/18
###
If you would like more information about this topic, please call Hannah Johnson at 612.617.6074, or email at Hannah.Johnson@northstarfinancial.com.