All Press Releases
North Star Named a Finalist for the BBB International Torch Award for Ethics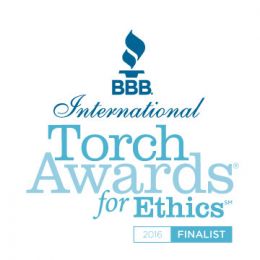 MINNEAPOLIS, MN—North Star Resource Group has been announced as a Finalist for the Better Business Bureau's (BBB) 2016 International Torch Awards for Ethics.
After winning the 2015 – 2016 Torch Awards for Ethics of the Better Business Bureau of Minnesota and North Dakota, North Star was eligible to compete in the International Torch Awards program of 2016. The program, now in its 20th year, celebrates companies who demonstrate best practices in leadership character and high standards of organizational ethics that benefit all shareholders of the company, according to their website. Companies are eligible to be considered for the Awards once they have won their local BBB award program within the United States and Canada. All Winners and Finalists will be honored at a ceremony on September 20th, 2016 in Indianapolis, IN. North Star is a Finalist in the 51 – 175 employee category.
North Star is grateful to receive this honor from the Better Business Bureau. The corporate culture of North Star is based on a series of six core values, which ultimately govern the direction of the firm: Responsibility, Faith, Integrity, Growth, Gratitude and Service. All six values are integral to maintain an ethical culture throughout the firm, guiding senior leaders, financial advisors, team members and ultimately the firm's clients. It was an honor to have won the BBB of Minnesota and North Dakota's award program in 2015—North Star is truly humbled to be recognized as a Finalist for the International Torch Awards for Ethics.
About North Star Resource Group
North Star Resource Group is a Minneapolis-based financial services firm that provides both individuals and businesses with the resources to help create, preserve and protect their wealth. North Star has more than 120 full time advisors and over 150 employees. In a network of 44 offices in 23 states, they have contributed to the financial security and well-being of over 120,000 individuals and small businesses. In 2015, North Star was the winner of the BBB Torch Awards for Ethics*, the Recipient of the Minnesota Business Ethics Award and listed as one of Minnesota Business Magazine's 100 Best Companies to Work For. To learn more about North Star Resource Group, visit www.NorthStarFinancial.com.
For Immediate Release
Contact:
Madison Netzinger
Digital Marketing Specialist
North Star Resource Group
612.617.6059
madison.netzinger@northstarfinancial.com
###