James Jaderborg, CLU®, ChFC®
Financial Advisor
Financial solutions aligned to
your meaningful life.
Eliminate fear and gain clarity with a step-by-step financial plan that puts your values and goals at the center—where they belong.
| | |
| --- | --- |
| |   The first call is always free with no obligations. |
Money is the top stressor in America—even for the highest earners.1
Many people making hundreds of thousands a year still experience money as a pain point.
Using a values-based financial planning framework, I help driven individuals design and implement money strategies around their one-of-a-kind lives.
When you have the right systems and habits in place, you can…
Feel in control of your money
Avoid costly mistakes
Experience true financial peace and freedom
Features and designations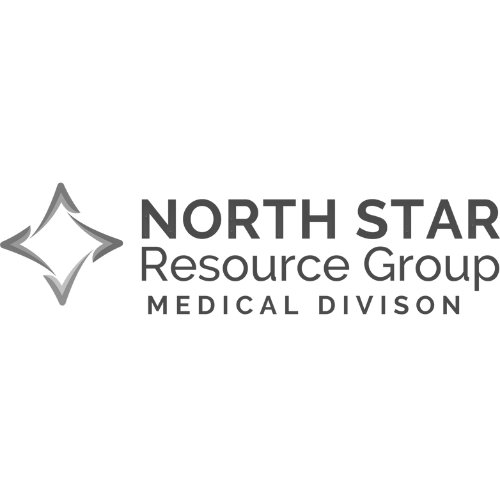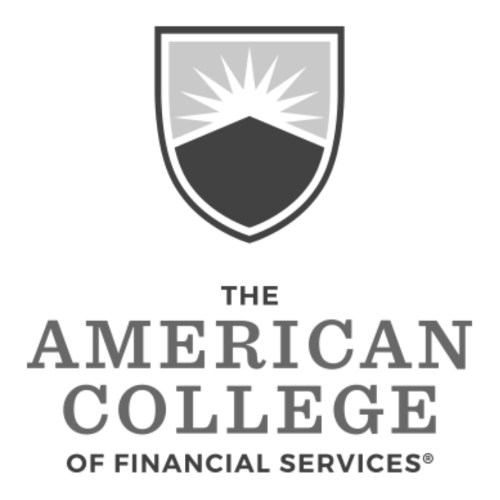 The North Star Medical Division is a group of advisors within North Star Resource Group who specialize in providing financial services to medical professionals at every step in their career. James has his CLU® and ChFC® designations from the American College. Million Dollar Round Table (MDRT) is a global, independent association of the world's leading life insurance and financial services professionals and members demonstrate exceptional professional knowledge, strict ethical conduct, and outstanding client service.
How it works
Learn if we're a fit

In the first call, we will talk through what you are looking to accomplish and determine if my services are a good fit.
Design a financial plan

We take time to get to know what financial security looks like for YOU and then design a comprehensive roadmap for bridging the gap between your current situation and your desired outcome.

Accomplish your goals one by one

Our team coaches you through the next steps; implements investment, cash flow planning, and insurance strategies; and analyzes your progress over time.
About us
Your complete financial strategy in one place
Our team exists to provide a high level of service to clients and build long-lasting relationships.
As the advisor, I serve as the financial coach through each of these resources, connecting each solution to your financial plan and making your investment and insurance models are coordinated efficiently.
We are also affiliated with North Star Resource Group, one of the largest independent firms in the country, which gives you access to a suite of services for every financial need.
James Jaderborg, CLU®, ChFC®
I became an advisor in 2010 to help professionals and their families find confidence in their finances.
Many of my clients are physicians who have a thousand priorities pulling at their time and their wallet, and above all, they need their finances to be a source of strength and comfort.
I help to quiet the noise, define their core money values, and build strategies toward the life they desire. 
Financial planning services
Personalized solutions for investments, insurance, and beyond
Investment services
Retirement planning
Retirement or future lifestyle considerations are a primary concern for most investors. Not only do we help you select a retirement account and contribution strategy during your working years, but we help diversify your accounts to protect and propel those assets through your entire distribution period.
Using advanced financial planning software, we can provide data-driven projections for your assets throughout your lifetime and legacy, including how different estate and charitable decisions affect these projections over time.
College funding options
While college costs continue to rise, many parents and grandparents are looking for ways to support their loved ones in accessing higher education. You can establish investment accounts and strategies that will help you provide for your family when it matters the most.
Tax minimization strategies*
With every strategy we recommend, tax implications are a primary concern. We collaborate with your CPAs, or provide a referral if needed, to ensure no tax efficiencies are left on the table in your plan.
Risk management
Asset protection strategies*
The more wealth you have, the more complex this process can be. Working with a comprehensive financial consultant, you can take a look at your complete financial picture—every income stream, asset, investment account, and insurance policy—to find and fill gaps in your protection.
Occupation-specific disability insurance
No one expects disability to happen to them, but if it does, disability insurance can help prepare you and your family so that finances aren't an issue.
We work with specialized professionals to find solutions that fit their needs, with cost-effective riders and options for maximum personalization.
Life insurance strategies
You can provide long-lasting security and wealth opportunities for your family through life insurance. We help you determine the level and style of coverage you need to fortify your family against the unknowns. Then, as your plan progresses, we will reassess your needs with long-term wealth building as the goal.
Debt management
With financial planning, you can design a strategy for paying off debt and investing effectively to build wealth efficiently over time.
Student loans, personal loans, and credit card debt can all weigh you down financially and emotionally. However, they don't need to be a reason to postpone investing. Our strategies focus on education and empowerment and won't force you into a scarcity mindset.
Exit strategy*
As a business owner, your practice is one of your life and financial investments.
Working with North Star's Business Owner Solutions team, we can help you address financial and tax considerations when developing your exit strategy. Then, we coordinate with your specialists or our trusted referrals to develop buy-sell agreement strategies, business valuations, and succession plans that make your long-term financial health central to planning.
Our planning process
Financial guidance and assurance through all life brings
Step 1: Organize

Before recommending any solutions, we take time to get to know you and your family and what financial security looks like for you.

If you're not sure what your life and financial goals are yet, we will help you determine your core values, illuminating how your finances can support what's most important to you.

We will also take time to analyze your current financial situation—your income, debt, employer's benefits, and more—to align your financial strategy to your current reality to your desired financial future.
Step 2: Prioritize

Once you have solidified your goals, we can help you decide how to tackle each one in a tax-efficient way.

Rather than relying on generic recommendations for when to pay off debt and start investing, we provide personalized solutions and resources for your specific situation and all its nuances. We can also suggest asset protection and wealth accumulation strategies you may have not considered on your own.
Step 3: Optimize

As your career and life develop, your financial strategy should too.

Together, you and our team will determine a check-in schedule that works for you, and he will help refine your investment strategies, insurance policies, and retirement funding to serve your needs better over time.­­­­
Tools and resources
Downloads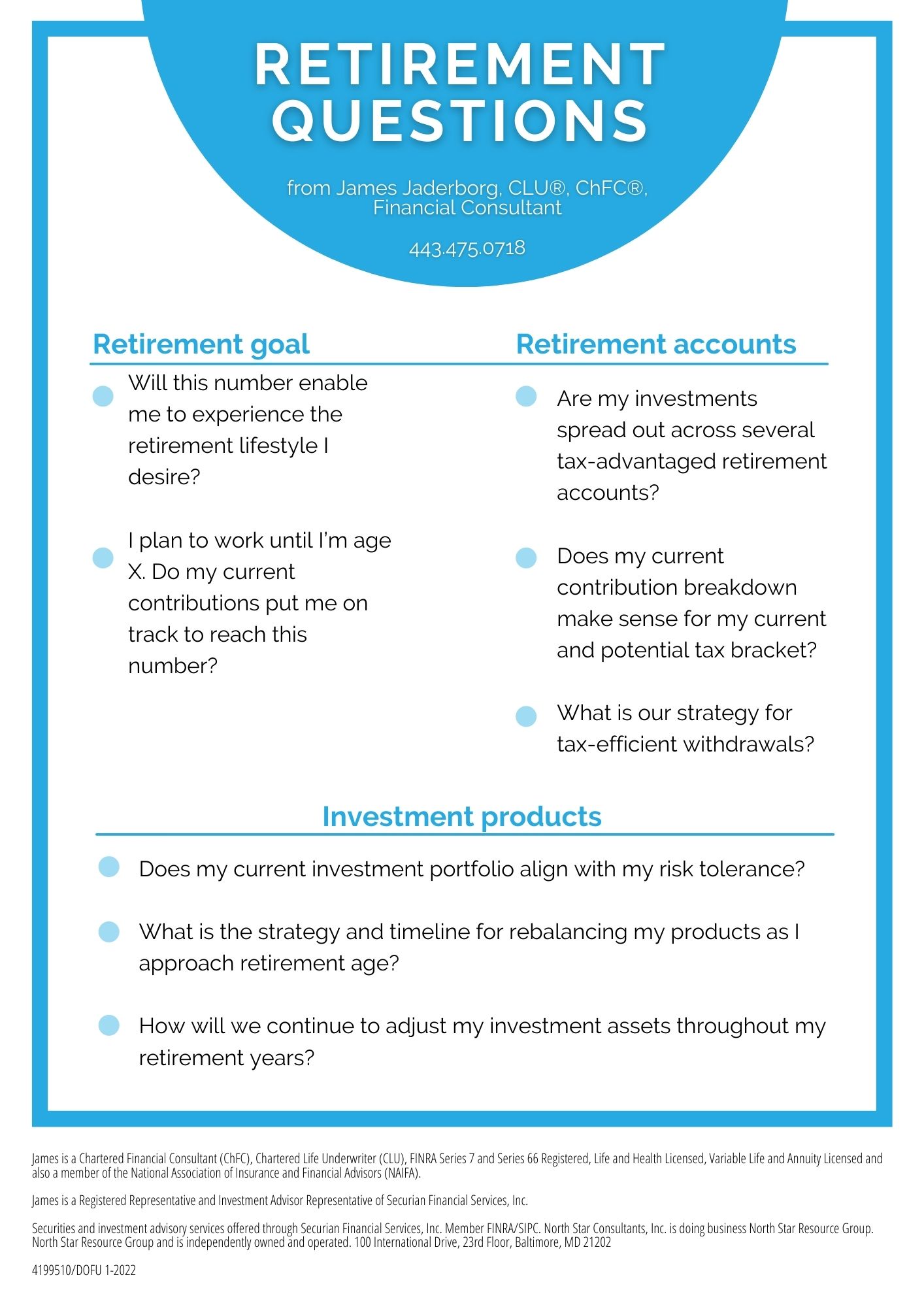 Retirement Questions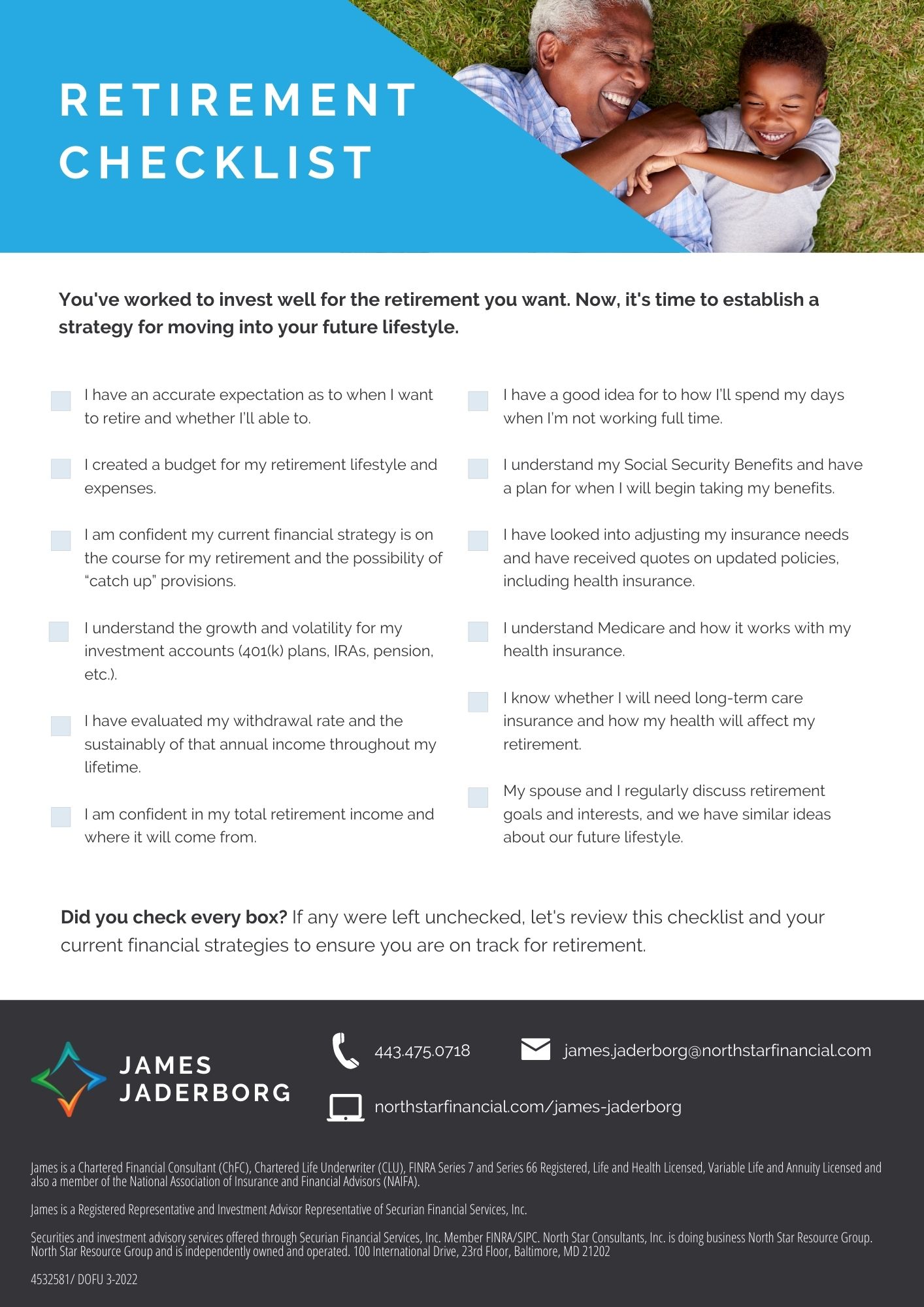 Pre-Retirement Checklist
Calculators
James is a Registered Representative and Investment Advisor Representative of Securian Financial Services, Inc.
Million Dollar Round Table (MDRT) is an independent membership organization of life insurance and financial service professionals. Membership levels are based on commissions, premiums, or fees generated within a year from investment and insurance products. Members must apply annually and pay a fee. Members must be members in good standing of a Professional Association which has met the following criteria: in existence at least 2 years, have 100 or more members, must be a nonprofit organization, must have a code of ethics and an effective means of dealing with breaches of its code. Members must also adhere to the MDRT Code of Ethics. Working with this advisor is not a guarantee of future financial results. Investors should conduct their own evaluation.
5600782/DOFU 4-2023