James Jaderborg, CLU®, ChFC®
Financial Consultant
Making Your Finances a Source of Strength and Comfort™
James Jaderborg and his team specialize in working with physicians and medical professionals, small business owners, and pre-retirees.  No matter your stage in life, a strong financial plan can provide peace of mind.
SCHEDULE AN INITIAL CONSULTATION
James helps his clients and their families identify and prioritize their financial goals while strategizing with them on how best to actively pursue these goals.
With his help, James' clients can achieve a sense of strength and comfort in their finances, knowing every strategy is supporting their core values and helping protect their family from the unexpected.
Developing your personalized solution
James focuses on a comprehensive approach with areas of specialty, including:
Asset protection strategies*
Physician-specific disability insurance
Debt management
Life insurance strategies
Tax minimization strategies*
Retirement funding options
Exit strategy*
College funding options
Helping you achieve financial confidence
James works with clients throughout the country through virtual meetings and has physical offices in Baltimore, Washington, D.C., and Philadelphia.
Additionally, he hosts educational workshops for businesses, universities, and teaching hospitals throughout the country, speaking to many professionals about next steps in their path toward financial security.
When not in the office, you can find James enjoying time with his family and friends, staying active outdoors, and volunteering time as a board director for the nonprofit organization Stop Alzheimer's Now.
Interested in learning more?
Reach out at james.jaderborg@northstarfinancial.com or 443.475.0718 to schedule a complimentary, no-obligation strategy session.
Specialties
James focuses on a comprehensive approach with areas of specialty, including:
Asset protection strategies*
You can manage the risks that could derail your goals, deplete your assets, or threaten your income.
Occupation-specific disability insurance
No one expects disability to happen to them, but if it does, disability insurance can help prepare you and your family so that finances aren't an issue.
Debt management
Student loans, personal loans, and credit card debt can all weigh you down financially and emotionally. Develop a tax-efficient pay-off strategy that will empower you and won't force you into a scarcity mindset.
Life insurance strategies
You can provide long-lasting security for your family through life insurance. James can help you determine the level of coverage you need to fortify your family against the unknowns.
Tax minimization strategies*
James will consider the impact of taxes is for each strategy he recommends. He also evaluates tax-minimizing strategies appropriate for your situation.
Future lifestyle funding options
Work with James to select a retirement account and contribution strategy that will help you diversify your investments and protect your retirement dreams.
Exit strategy*
As a business owner, your practice is one of your life and financial investments. James can help you address financial and tax considerations when developing your exit strategy.
College funding options
While college costs continue to rise, many parents and grandparents are looking for ways to support their loved ones in accessing higher education. You can establish investment accounts and strategies that will help you provide for your family when it matters the most.
Our process
James's goal is to establish a lifelong relationship with his clients to provide financial guidance and assurance in every life change and market fluctuation.
Step 1: Organize
Before recommending any solutions, James takes time to get to know you and your family and what financial security looks like for you. If you're not sure what your life and financial goals are yet, he will help you determine your core values, illuminating how your finances can support what's most important to you.
He will also take time to analyze your current financial situation—your income, debt, employer's benefits, and more—to align your financial strategy to your current reality to your desired financial future.
Step 2: Prioritize
Once you and James have solidified your goals, he can help you decide how to tackle each one in a tax-efficient way.
Rather than relying on generic recommendations for when to pay off debt and start investing, James will provide personalized solutions and resources for your specific situation and all its nuances. He can also suggest asset protection and wealth accumulation strategies you may have not considered on your own.
Step 3: Optimize
As your career and life develop, your financial strategy should too. Together, you and James will determine a check-in schedule that works for you, and he will help refine your investment strategies, insurance policies and retirement funding to serve your needs better over time.­­­­
Resources
Calculators
Downloads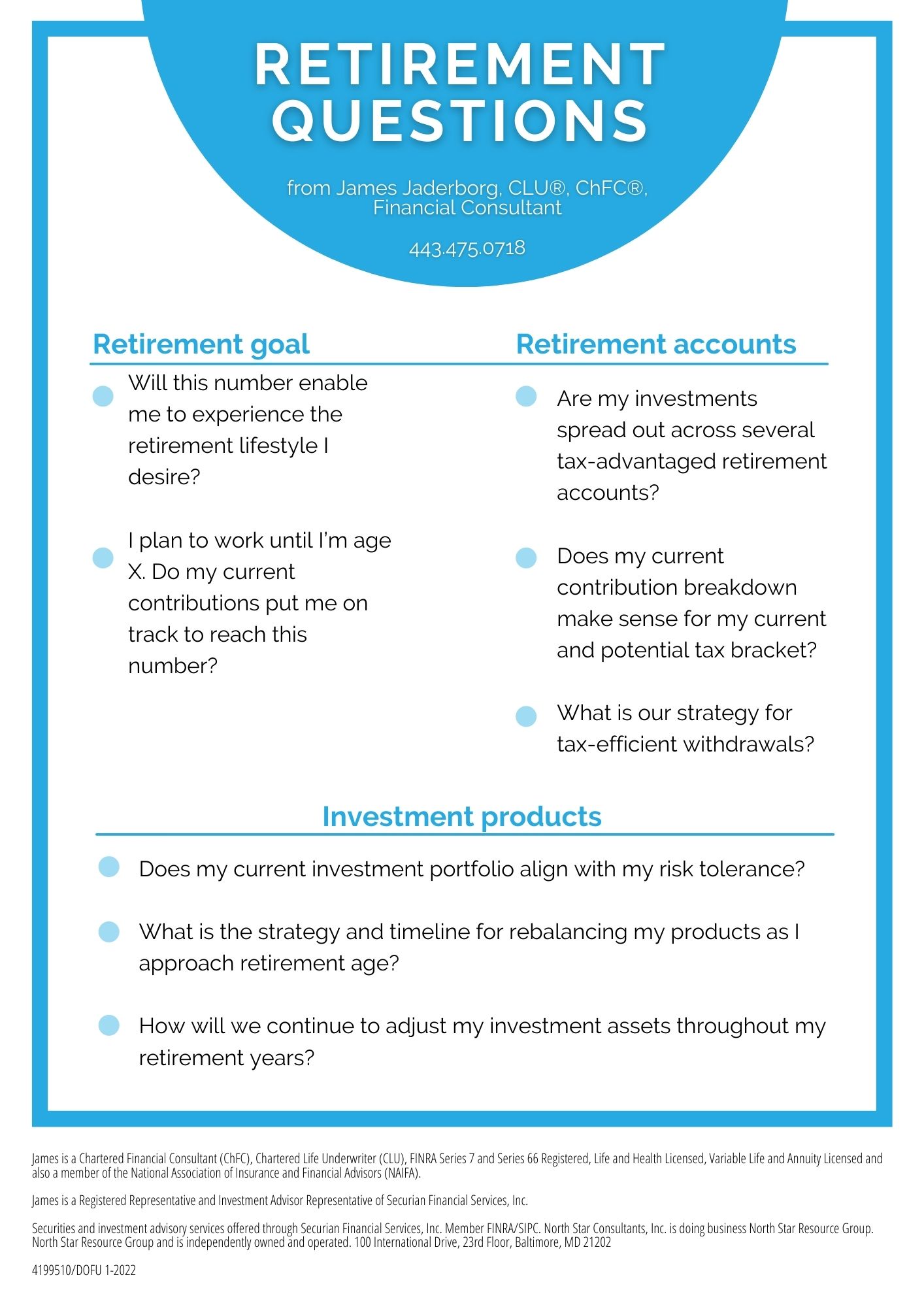 Retirement Questions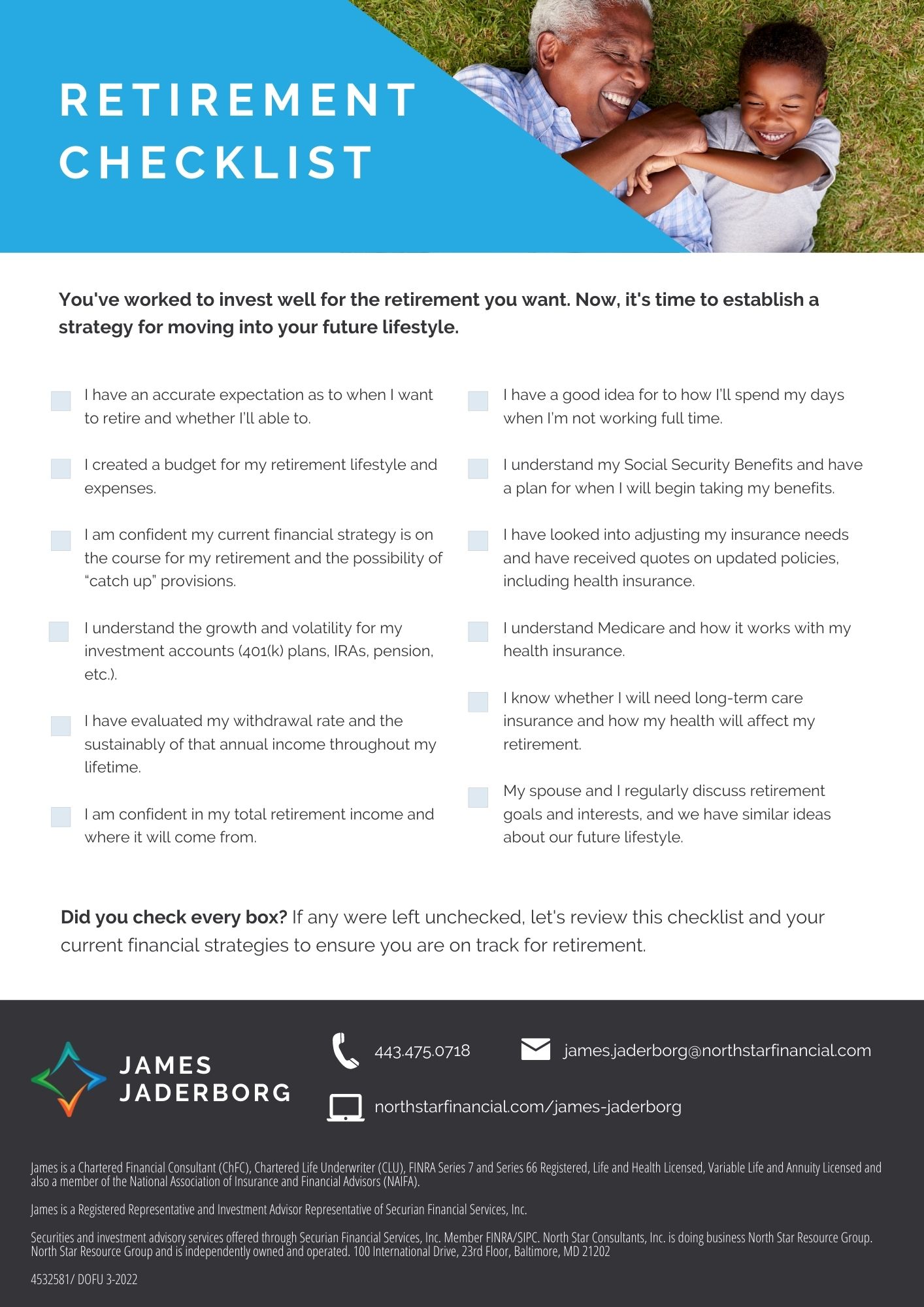 Pre-Retirement Checklist
James is a Chartered Financial Consultant (ChFC), Chartered Life Underwriter (CLU), FINRA Series 7 and Series 66 Registered, Life and Health Licensed, Variable Life and Annuity Licensed and also a member of the National Association of Insurance and Financial Advisors (NAIFA).
James is a Registered Representative and Investment Advisor Representative of Securian Financial Services, Inc.
Million Dollar Round Table (MDRT) is an independent membership organization of life insurance and financial service professionals. Membership levels are based on commissions, premiums, or fees generated within a year from investment and insurance products. Members must apply annually and pay a fee. Members must be members in good standing of a Professional Association which has met the following criteria: in existence at least 2 years, have 100 or more members, must be a nonprofit organization, must have a code of ethics and an effective means of dealing with breaches of its code. Members must also adhere to the MDRT Code of Ethics. Working with this advisor is not a guarantee of future financial results. Investors should conduct their own evaluation.
GAMA International is a membership organization for which individuals must submit applications and payment. The organization is geared toward those in a recruiting, training, or supervision role in the financial services industry. Awards are based primarily on -commissions, premiums, or fees generated from investment and insurance products and other criteria relative to leadership, achievement, and recruiting selected by the applicant. Individuals must be current with membership dues and submit an application fee for consideration. Working with this individual is not a guarantee of future financial results. Investors should conduct their own evaluation.
The Five Star Wealth Manager award, administered by Crescendo Business Services, LLC (dba Five Star Professional), is based on 10 objective criteria: 1. Credentialed as an investment advisory representative (IAR) or a registered investment advisor; 2. Actively employed as a credentialed professional in the financial services industry for a minimum of five years; 3. Favorable regulatory and complaint history review**; 4. Fulfilled their firm review based on internal firm standards; 5. Accepting new clients; 6. One-year client retention rate; 7. Five-year client retention rate; 8. Non-institutionalized discretionary and/or non-discretionary client assets administered; 9. Number of client households served; 10. Educational and professional designations. Wealth managers do not pay a fee to be considered or awarded. Once awarded, wealth managers may opt to purchase additional profile ad space or related award promotional products. The award methodology does not evaluate the quality of services provided. The award is not indicative of the award winner's future performance. 4,696 Philadelphia wealth managers were considered for the award; 805 (18 percent of candidates) were named Five Star Wealth Managers.
**To qualify as having a favorable regulatory and complaint history for this award, the person cannot have (1) been subject to a regulatory action that resulted in a license being suspended or revoked, or payment of a fine, (2) had more than a total of three customer complaints filed against them (settled or pending) with any regulatory authority or Five Star Professional's consumer complaint process, (3) individually contributed to a financial settlement of a customer complaint filed with a regulatory authority, (4) filed for bankruptcy, or (5) been convicted of a felony.
2096666/DOFU 6-2020