Devon Pilney
Financial Advisor
An advocate to physicians seeking financial wellness
As a physician, consider how many years you've invested in education and training. Then ask yourself: how much of that was directed towards personal finance? Becoming financially educated is the first and most important step a physician must take on their path to financial wellness. If you're looking for answers and find yourself in need of a trusted advocate, let's chat.
About
As a financial advisor, Devon believes in building long-term relationships with individuals who are genuinely motivated to learn more about and improve their financial life. Working with North Star Resource Group as an independent financial advisor, Devon has worked diligently to develop a blueprint for a financial education process to ensure that his clients fully understand the "why" behind each and every decision they make.
Devon's expertise is focused on helping his clients efficiently pursue financial independence through the design & implementation of their own unique blueprint, which serves as a roadmap toward achieving their goals. He works primarily with medical professionals and has built relationships and facilitated educational presentations in Oregon and Washington at many major medical institutions, including:
University of Washington (UW) Medical Center
Oregon Health & Science University (OHSU)
Virginia Mason Medical Center (VMMC)
Providence Health & Services
Legacy Medical Group – Northwest
MultiCare Health System
Valley Medical Center
Swedish Medical Center
Group Health Cooperative
Seattle Children's Hospital
Fred Hutchinson Cancer Research Center
His dedication to providing education to physicians, nurses, physical therapists, and other medical professionals is highlighted by the individualized educational approach he takes with each client.
Please feel free to call or email Devon to set up a complimentary, no-obligation consultation to address your financial questions and concerns.
Devon is FINRA Series 7 and Series 66 registered, as well as being licensed in Life, Health, Disability, and Long-Term Care insurance.
Personal information
Devon is a graduate of the University of Oregon with a degree in political science. In his spare time, he volunteers on the Natural Resource Committee (NRC) of Oregon City. The Committee's role is to encourage conservation of natural resources, preservation and enhancement of ecosystems, open spaces and natural corridors within Oregon City. On a sunny weekend, you'll find Devon outdoors with his wife Jessica, his son Simon, and their black lab Sami hiking, backpacking, golfing, snowboarding, or playing Chuck-it.
Get to know the C.F.O.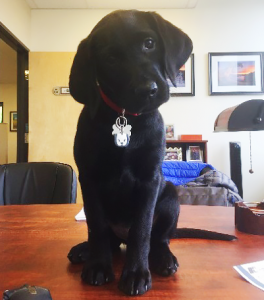 Sami (pictured on right, keeping Devon on task—one of her many duties) was the Christmas fur baby that arrived in September of 2015 (whoops). After setting record-breaking times in the global potty training trials, she set her snout on becoming a preeminent thought leader on financial advisory best practices (with no guidance from her dad whatsoever). In late 2015, Sami assumed her role as the Chief Fun Officer where she oversees the following critical areas of Devon's advisory practice:
Client experience (professional greeting services)
Advisor well-being (two walks per/day minimum)
Front desk treat quality control (certified sniff & taste tester)
And general pep talk services
Services
As a values-based financial advisor, Devon has helped hundreds of families to gain a better understanding of their financial world. Some of those conversations include:
General preparation and guidance
Debt management, repayment, and forgiveness strategies (student loans, personal loans & credit cards)
Budgeting and savings (cash flow organization)
Group benefits review for residents, fellows, and practicing medical professionals*
Insurance
Insurance company selection and product structure
Disability insurance
Term life insurance
Long-term care insurance
Critical illness insurance
Retirement savings and investing strategies
Long-term tax minimization strategies*
Retirement savings strategies and vehicles (Solo 401k, SEP, 410k 403b, Roth IRA etc.)
Medium-term investment strategies
Asset protection strategies*
College education funding and cost analysis
The potential benefits from meeting with Devon include:
Full disclosure and transparency when it comes to fees, expenses and management costs
Increased knowledge and understanding of financial obstacles and opportunities
Less financial clutter and the reduction of financial worry/stress from the unknown
More confidence and better decision-making ability when it comes to your finances
Devon is an investment advisor representative of Cetera Advisor Networks, LLC. CA Insurance License #0I21403.

*Financial Professionals do not provide tax or legal advice and this should not be considered as such. Please consult a tax or legal professional for advice regarding your specific situation.