The Cost of a Bad Credit Score
$319,135… In the hypothetical example below, that's how much a bad credit score could cost you in interest over your lifetime.
We've all been told to worry about our credit score from our parents, friends, or the media.
But I'd never seen the importance of a credit score quantified into actual dollars lost like this. Poor credit can cost you hundreds of thousands of dollars in interest. If you're like me, you'd like those dollars back to spend on things you enjoy: coffee, travel, home remodeling or investing.
Let's say you're a young person who's convinced and want to improve your credit score. How do you do this? In one word: diligence.
Pay your student loans, car payment, mortgage, or credit card on time every month.
Open a credit card but treat it like debit card. Make a rule to pay your balance in full every month.
Keep old credit accounts open if they don't charge an annual fee. The length of time you've had credit factors into your score.
Take care of these things every month and you'll spend less money on interest payments and have more for the things you actually enjoy.
Being diligent today makes you richer tomorrow.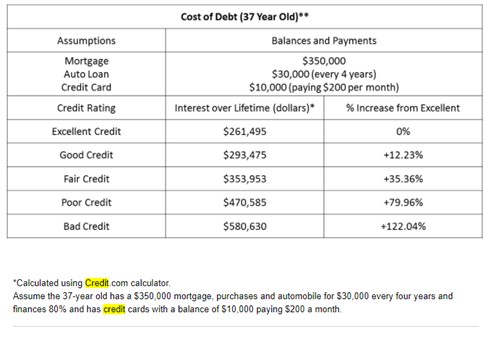 This is a hypothetical example for illustrative purposes only. Assumes 3.3% interest for excellent credit, 3.7% interest for good credit, 4.5% interest for fair credit, 5.9% interest for poor credit and 7.2% credit for bad credit.