Austin Rothstein
Financial Advisor
Clear financial guidance for young professionals, families, and business owners.
Austin offers comprehensive financial solutions tailored to your situation and goals, helping you live the life you want.
When you are ready to start the journey toward financial security, our team helps you grow in clarity and confidence every step of the way. We cut through the noise and clutter by offering ongoing education and guidance around your financial options, so you can make informed choices that fit your goals.
As your personal financial guide, Austin leads a team of planning and investment specialists who strive to understand your needs and exceed your expectations to help you achieve what matters most to you.
Getting started with financial advice:
Schedule a complimentary, no-obligation initial meeting.
This allows us to get to know each other, and for him to learn about your specific financial needs and goals. He will also analyze your past financial decisions as part of this meeting. This approach allows Austin to recommend the financial approach and strategies suited to YOU.
Create a customized action plan for you to follow.
Everyone needs a game plan. We deliver that: our financial plans are tailored specifically to you and are designed to achieve the exact goals you have for yourself and your family. After all, not every person or family is the same.
Execute, monitor, and adjust the strategy over time to fit your life.
Life happens! Austin understands that, and When you work with us, you gain financial counsel and direction for life. Austin will monitor your financial situation and adjust the course for you if necessary.
Financial Services
Financial Planning
Having a solid financial plan is crucial to working towards your financial independence. Using your goals and needs as a guide, Austin creates a comprehensive plan to address each facet of your financial picture. This allows you to live the life you want and help remove any stress that you may have about how to achieve your financial goals, how much you need to save, and if you are properly protected against setbacks.
Investment Planning
Whether you are saving for retirement, a new car, or a new home, Austin can help you plan for these goals based on YOUR time frame and how much YOU can save. He uses investment solutions tailored to your specific situation to help you achieve these goals. Even if your goal is simply to build wealth, we can help.
Insurance Planning
Part of solid financial planning includes having countermeasures in place for when things go awry. Setbacks are often inevitable, but Austin can help you plan for them and react appropriately. Whether you are an individual, a family, or a business owner, we will ensure you have proper protection in place.
Business Planning
Austin works with business owners to properly protect their businesses—and themselves—against setbacks, This ensures that they have a solid financial future for themselves as well as their employees. He does this by utilizing Employee benefits and retirement planning (Simple IRA, 401K, SEP IRA). In short, Austin takes the load and stress off the business owner so that they can focus on growing their business and supporting their employees.
About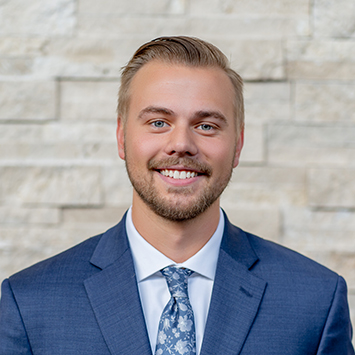 Austin is a graduate of Grand Canyon University in Phoenix, where he obtained a degree in finance and economics.
When the Minnesota weather allows, you can typically find him spending time outdoors golfing, fishing, or hunting.
Additionally, Austin enjoys watching movies and reading. Some of my current favorite books are Think & Grow Rich by Napoleon Hill, Start With Why by Simon Sinek, and The Psychology of Money by Morgan Housel. He is always looking for good book recommendations!
Team
When working with a financial advisor, you receive a guide and collaborator through all of life's financial ups and downs. Working with Austin also gives you access to a whole team of experts.
Austin works closely with a team of other financial advisors at Midwest Wealth Advisors, an affiliate of North Star Resource Group, in Elk River, MN.
Additionally, he works with North Star's investment and insurance specialists to get a second, third, and fourth perspective on the strategies available to you. Then, Austin can provide recommendations for your specific situation and provide as much education as is helpful for you to make an informed decision.
Financial calculators
Below, you will find several North Star resources that can offer you a handy starting point to some of the financial questions you may have. While they can't match the capabilities of a comprehensive financial advisor, they are enough to at least get you started.
Do you still have further questions? Contact us to set up your complimentary, no-obligation consultation today.
Elk River
11040 183rd Cir NW STE A
Elk River, MN 55330
Directions
Minneapolis
2701 University Ave SE
Minneapolis, MN 55414
Directions
Separate from the financial plan and our role as financial planner, we may recommend the purchase of specific investment or insurance products or accounts. These product recommendations are not part of the financial plan and you are under no obligation to follow them.
Austin and David are investment advisor representatives of Cetera Advisor Networks, LLC. Securities offered through Cetera Advisor Networks LLC, member FINRA/SIPC. Advisory Services offered through Cetera Investment Advisers LLC, a registered investment adviser. Cetera is under separate ownership from any other named entity.