All Press Releases
Rebecca McLaughlin selected as finalist for the TeamWomen Uncharted Territory award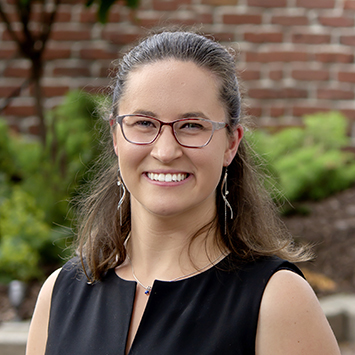 MINNEAPOLIS — Rebecca McLaughlin, financial advisor at North Star Resource Group, was selected as a finalist for TeamWomen's Unchartered Territory award.† The award will be presented as part of TeamWomenMN's fifth annual WaveMaker Awards Celebration on Thursday, October 22, 2020.
TeamWomen is a female-led organization that coaches women to reach their full potential, and the Unchartered Territory award recognizes women who have excelled in a typically male-dominated profession or industry.
Whether in business or volunteering, McLaughlin has a passion for teaching and training people in the male-dominated fields of finance and astrophysics.
For 18 months, McLaughlin has been establishing an independent financial advising practice. In an industry where 80% to 85% of financial advisors are men (Barron's, 2019) and the average age is over 55 (J.D. Power, 2019), she is becoming a trusted resource for clients and coworkers. Even early in her career, she is already coaching a financial intern and plans to develop other advisors in the future, a choice that has solidified her decision to remain independent rather than joining an existing practice.
Although her career is in finance, McLaughlin also minored in astrophysics, a field where women earn only 21% of bachelor's degrees (American Institute of Physics, 2019).
McLaughlin is the co-founder of Womxn Crush Wednesday Climbing Group; an eMentor for BestPrep, a Minnesota-based nonprofit focused on improving financial literacy for students; and a mentor for Mentoring Her, the largest virtual community for mentoring women.
About North Star Resource Group
North Star Resource Group is a Minneapolis-based financial services firm that provides individuals, families and businesses with the resources needed to create, preserve and protect their wealth. With a network of 170 advisors in 22 states, North Star has contributed to the financial security and well-being of over 140,000 individuals.*  Additionally, North Star contributes 10 percent of profits each year to worthy nonprofits through the Scott Richards North Star Foundation, totaling $5 million donated since 2004. To learn more about North Star Resource Group, visit www.northstarfinancial.com.
*Data as of December 31, 2019
###
If you would like more information about this topic, please call Megan Temte at 612.617.6018, or email at megan.temte@northstarfinancial.com.
Rebecca is an investment advisor representative of Cetera Advisor Networks, LLC.