All Press Releases
North Star Wins Best in Class: Midsize Company at the Community Impact Awards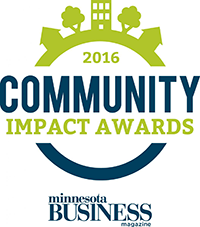 MINNEAPOLIS, MN—North Star Resource Group has been named the winner of Minnesota Business magazine's Best in Class: Midsize Company award at their 2016 Community Impact Awards. Accepting the award on behalf of North Star was Chief Operating Officer (COO) Diane Yohn.
The Community Impact Awards acknowledge businesses across Minnesota striving to make a difference in their communities. The Best in Class: Midsize Company award is designated for companies with 51 to 250 employees for overall excellence in positively impacting Minnesota communities.
"As a business and as an organization of people we exist and function as part of a larger community. We contribute as a business and each member of our team contributes to make our communities better places to live and work. We do it because it is the right thing to do."
North Star is humbled to win the category recognizing businesses making an impact on their local communities. In 2004, North Star established the Scott Richards North Star Foundation (SRNSF) to maximize charitable contributions. To date, the Foundation has contributed more than $2 million primarily to the six causes designated by the Foundation: Alzheimer's disease, Ataxia, Bikes for Kids, Breast Cancer, Cystic Fibrosis and Myelofibrosis. North Star gives 10% of profits annually to the Foundation and to support giving back among the North Star team, offers 8 hours of Volunteer Time Off (VTO) to full-time team members and offers a matching gift program with available funds exceeding $150,000 annually. Community involvement at North Star has become the norm and is something everyone can be proud of. This is North Star's first time winning this award and the second form of recognition North Star has received within the past year relating to charitable contributions and efforts. In September 2015, North Star was recognized as a Finalist for the Invest in Others Charitable Foundation and InvestmentNews' Corporate Philanthropy Award.
For more on the SRNSF, visit https://www.northstarfinancial.com/foundation/.
For full details on the 2016 Community Impact Awards and ceremony, visit http://www.minnesotabusiness.com/2016-community-impact-awards.
About North Star Resource Group
North Star Resource Group is a Minneapolis-based financial services firm that provides both individuals and businesses with the resources to help create, preserve and protect their wealth. North Star has more than 120 full-time advisors and over 150 employees. In a network of 44 offices in 22 states, they have contributed to the financial security and well-being of over 120,000 individuals and small businesses. In 2015, North Star was the winner of the BBB Torch Awards for Ethics, the Recipient of the Minnesota Business Ethics Award and listed as one of Minnesota Business Magazine's 100 Best Companies to Work For. To learn more about North Star Resource Group, visit www.NorthStarFinancial.com.
For Immediate Release
Contact:
Kristen Bernsteen
PR & Social Media Specialist
North Star Resource Group
612.617.6018
Kristen.Bernsteen@northstarfinancial.com
###