All Press Releases
North Star Resource Group Sponsors the Student of Integrity Scholarship
MINNEAPOLIS — The Better Business Bureau of Minnesota and North Dakota announced the recipients of the Student of Integrity scholarships for 2019. North Star Resource Group is proud to be a sponsor for the Student of Integrity scholarships through the Scott Richards Endowment from the Scott Richards North Star Charitable Foundation (SRNSCF).
The formation of this endowment to fund Students of Integrity scholarships in perpetuity has been created to build and honor a legacy of supporting character ethics.
"In 2004, North Star recognized our desire to give back and founded the Scott Richards North Star Charitable Foundation," says North Star Founder and Executive Chairman Phillip Richards, "And there are few more impactful ways to give back than through education, which is why we are proud to partner with the BBB of Minnesota and North Dakota in the Student of Integrity scholarship."
This year, Andrew Hattling of Elk River, Minn., received the $2,500 Scott Richards scholarship. This scholarship, along with the other Student of Integrity scholarships, is presented to high school senior in Minnesota and North Dakota who demonstrates in an essay the impact of ethics and integrity in their own lives.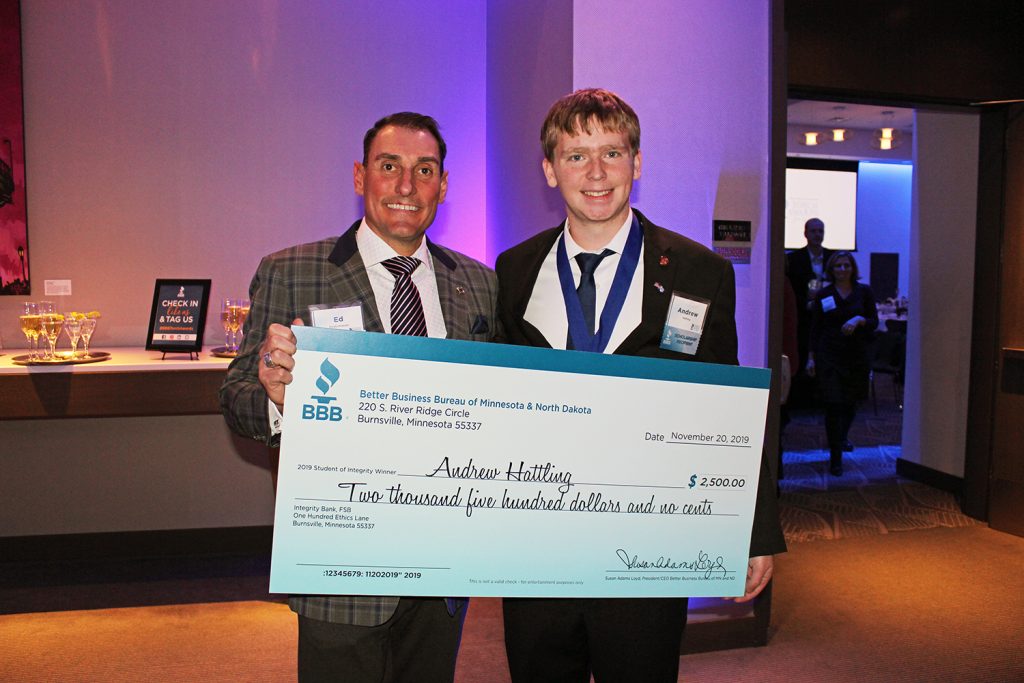 Watch video of scholarship recipients.
"The students who apply to and receive the Student of Integrity scholarships go above and beyond when it comes to ethics," says Richards. "Even at a young age, they have made difficult choices to do what's right even when it is difficult, and we are proud to recognize their commitment to integrity through this scholarship."
Ed Deutschlander, CEO of North Star, attended the scholarship ceremony on Wednesday, November 20, to congratulate Hattling and the other recipients.
"One of our core values at North Star is integrity," says Deutschlander. "This is why it is an honor for us to sponsor the Student of Integrity scholarships to reward the next generation of college students excited to go into the workplace and their communities with strong ethics and values."
About North Star Resource Group
North Star Resource Group is a Minneapolis-based financial services firm that provides both individuals and businesses with the resources to help create, preserve and protect their wealth. North Star has more than 150 full time advisors and over 170 employees. In a network of over 40 offices in 23 states, they have contributed to the financial security and well-being of over 130,000 individuals and small businesses.* To learn more about North Star Resource Group, visit www.NorthStarFinancial.com.
*Data as of 12/31/18
###
If you would like more information about this topic, please call Megan Temte at 612.617.6018, or email at Megan.Temte@northstarfinancial.com.