Automating your personal finances
How much time do you spend on your finances? More importantly how much time do you spend worrying about your finances? If it's more than 1 hour/week it's too long!
I strongly suggest building an automated system for handling your money so you can spend more time enjoying the things you love.
By setting up an automatic system – bills, payments, savings, and even investments will be automated so you can focus on the things that really matter.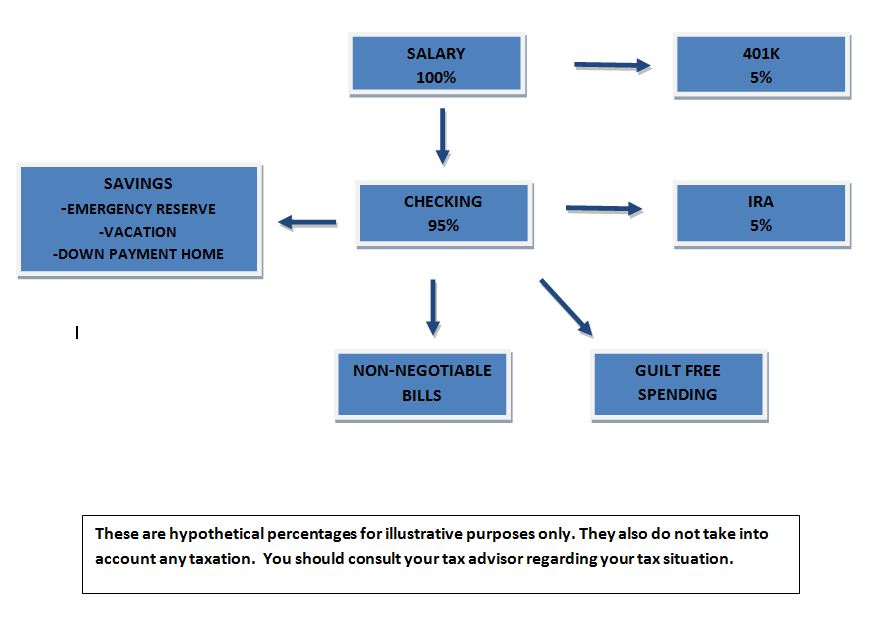 Step 1: Bills
Get all bills set up on the 1st of the month – assuming you get paid on the 1st of the month.
Step 2: 401(k)
Consider setting up an automatic draft from your paycheck into your firm's 401k (if you have one). A good rule of thumb is to contribute up to the match.
Step 3: IRA
Consider setting up an automatic draft into an IRA from your checking account. There are numerous options for investing in IRA, be sure you evaluate all your options and make sure it's suitable for your unique situation. Have this transfer happen on the 5th of the month if you get paid on the 1st. I allow a few days in case for some reason your paycheck didn't come through on time.
Step 4: Pay yourself first
Automatic savings plan – Consider setting up an online savings account, SEPARATE from where you bank. It maybe that the old adage is true, out of sight out of mind, by putting savings in a separate institution you may have less temptation to spend it.
Step 5: Set up sub-savings accounts
Within your online savings account consider setting up sub-accounts for expenses that are coming up within the next year.
Ideas for you sub savings accounts:
Emergency reserve (3-6 months of fixed expenses)
Wedding
Down payment for home
Summer trip to California
Car maintenance – your car will break down –prepare for it
Stupid mistakes – yes we all make dumb mistakes when it comes to our money – be prepared for them! Your husband likes to play poker once a month with his buddies and somehow he ALWAYS loses? That's okay if it makes him happy and you've PREPARED for it. Ladies, you ended up buying two purses instead of one because you HAD to have both – again, build a cushion in for these things when you set up your automatic savings strategy.
Step 6: Add up non-negotiable expenses
Once you have paid yourself first, taken care of upcoming expenses by setting up automatic withdrawals into your sub-savings accounts, and contributed to your retirement accounts, now figure out what your non-negotiable bills are. Add up all bills, groceries, gas, insurances, etc. (non-negotiables) and figure out what the total is. This will also help you determine what your 3-6 month emergency reserve will be. Whatever is left over after you have paid yourself, saved for retirement, and paid your bills you can now enjoy GUILT FREE SPENDING!
-This is general advice. For your specific situation give me a call to figure out where the most efficient place to direct your dollars could possibly be. – 
Deadlines:
You have up until April 15th of 2014 to contribute to an IRA to deduct off of the previous year's income. *
Quick Tip:
If you are receiving a tax return don't be so quick to put it towards your debts such as student loans or a mortgage. A $5000 tax return can turn into $40,000 over the next 30 years if you earn an average 7% return.*

Sign up to stay in touch!
Tanner is a registered representative and investment advisor representative of CRI Securities, LLC and Securian Financial Services, Inc.
2389994/DOFU 1-2019